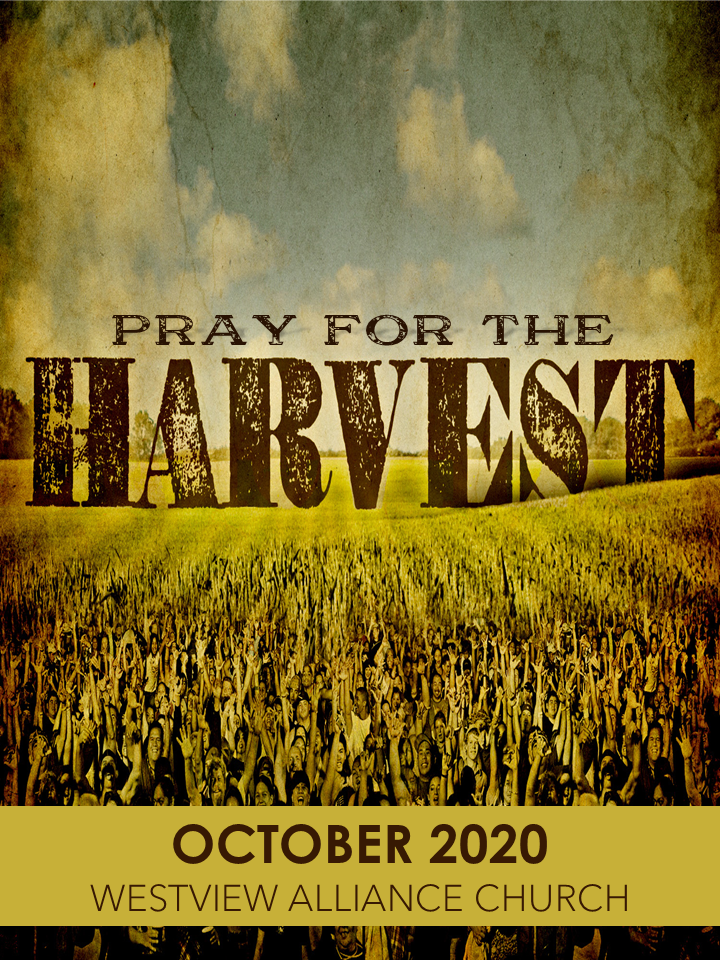 Harvest Prayer Initiative



The harvest is plentiful, but the workers are few. Ask the Lord of the harvest, therefore, to send out workers into his harvest field.
Luke 10:2
What?
An opportunity join with other believers to intentionally pray for and witness to others, asking the Father to fill us with His grace in order to make Jesus known.


When?
The month of October


Where?
Anywhere! Westview Alliance Church is hosting this initiative. But the Holy Spirit is not limited to a building! You may pray onsite in the Westview prayer room, in your home, in your office, in a small group, or any other place the Spirit may lead you.


Who?
YOU, partnering with the Holy Spirit, to share the love of Jesus with others who need to encounter His love and grace. Ask the Holy Spirit to reveal to you who He wants you to pray for and witness to.
How?
Everyday when you awake, pray that the Lord would fill you with His grace.

Faithfully PRAY everyday for the person on your personal prayer list.

Sign up on our prayer calendar to join others in praying over the entire list of names on our corporate prayer list. (The Westview office will send you a confidential prayer list of names once you sign up to pray.)

Pray over the entire list of names during your selected dates & times.

Look for God to give you opportunities to witness and share the love of Jesus. As he does, be obedient.

As you are able, join us for corporate evenings of Harvest worship and prayer on Wednesday evenings during the month of October.