Volunteering at Westview!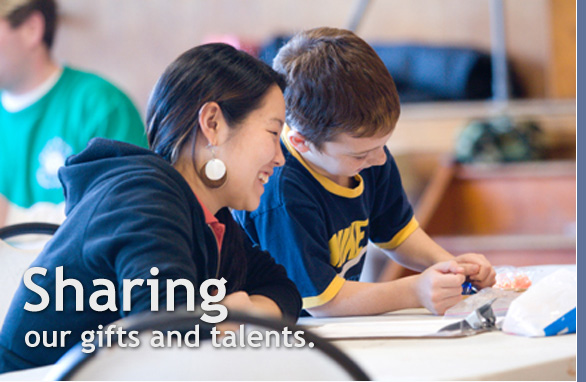 At Westview we believe that "Whatever God is going to do, He's going to do through ALL of His people." The implications of that are quite important. If Westview is to live in the purpose of God it will take all the people at Westview engaged in His mission. This commitment to spiritual responsibility touches our families, neighborhoods, workplaces and the entire community. In some sense, our spiritual responsibility even encompasses the reaching of the nations. It will take spiritually equipped and mobilized people to accomplish the God-sized mission He has given us. We like to call that being "all in." Activity then is based upon each person's spiritual vibrancy.
We also recognize that in order to live in this reality we must reconstitute how we do things. We believe that the most effective way of growing up spiritually and getting at the mission of Jesus is to do things in a decentralized way. That is, the Pastor or a small group of people aren't doing all the work while everyone else watches! What it also means is that we understand that God has wired us and gifted us all differently, so that we live and minister in the dynamic of interdependence. Interdependence has the function of protecting the areas where others are not gifted in the same way we are, and using our God-given strengths to enhance and provide synergy for the task God has called ALL of us to.
The Bible shows us in 1 Corinthians 12 a picture of interdependence, when Paul describes the church as a body. A body that is made up of many different parts all working together in concert. God has created us and called us to use the gifts and talents and abilities He has given us to support and grow the Body of Christ where we find ourselves planted. Will you get involved? Will you answer the call to be "ALL IN"? We need everyone, not just to support a program, but to actively live out who God has called us to be, for His glory. The end of that is seeing our "circle of influence" repeatedly touched with the good news of Jesus and to hear the repeated call to be reconciled to God!